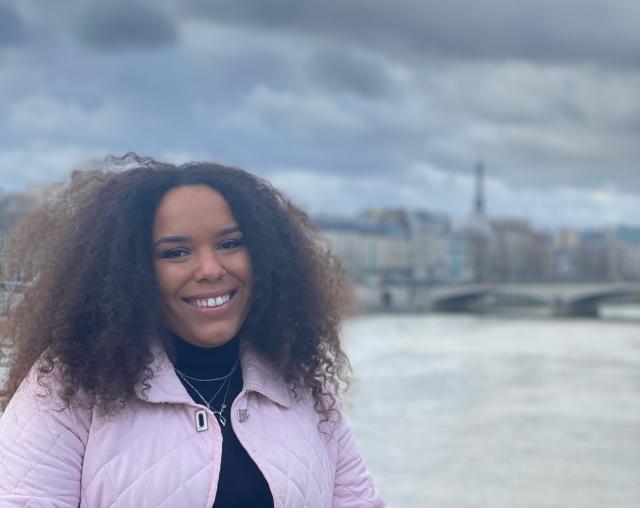 The teachers ... Not only were they good at what they were teaching but they saw my efforts, worth and dedication and pushed me in ways that made me better.
Shadow Kendrick says she chose Lane to start her education in marketing for practical reasons: it was affordable and offered small class sizes to help her regain her confidence in returning to school. 
"I felt like Lane would be the place for all my needs," Kendrick said. 
At the time, she was working in a small business environment and knew she wanted to learn more about marketing and dreamed of studying outside of the United States. It wasn't until her first advising session that she realized how easily she could make both of her dreams come true. She saw a poster in her advisor's office advertising LCC's partnership with the Rennes School of Business in France that allows students to complete two years at LCC and complete a bachelor's degree in international marketing at Rennes. Kendrick transferred to Rennes in fall 2020, navigating a global pandemic to start her studies in a foreign country. She expects to complete her degree and continue at Rennes to work on a master's degree in digital marketing strategies there. Her study abroad experience exposed her to new goals and opportunities. 
"It's allowed me to have more of an understanding of education in different regions, broaden my perspective on life, and created connections that had opened doors for me I am beyond grateful for," Kendrick said. "Now, my goal and dream career are to work with the French UN in hopes to work with Dr. Denis Mukwege's nonprofit organization in his work with the rehabilitation of women who are victims of rape as a weapon of war."
She attributes her experience at Lane to preparing her for a global opportunity. 
"I had a great experience at Lane! I went in with a good discipline and work ethic and I came out with so much knowledge and preparation for the next steps," she said. "The advising team kept me accountable along with myself. They and I made efforts on both sides to check-in where I was throughout the term and that helped me a lot. The teachers, I could say so many good things about all of them. Not only were they good at what they were teaching but they saw my efforts, worth, and dedication and pushed me in ways that made me better."
Her advice to other students: "Don't let fear get in the way of a better version of you. It's okay to be scared, to be uncomfortable, to even be confused at first. I was all of these things starting school but that didn't stop me from taking the steps to better me every day."