Get hooked up to a networking career.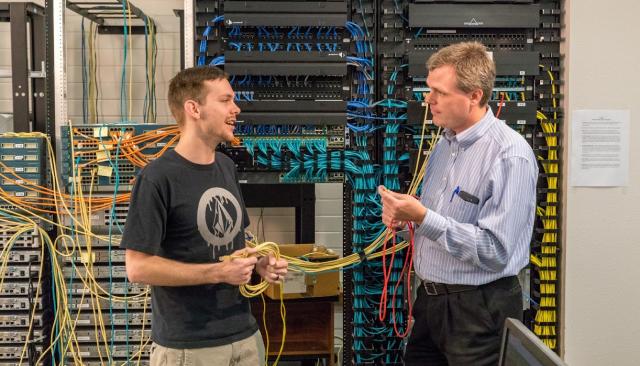 In networking, it's not only important to understand theory, it's also critical that you have hands-on experience working with hardware.
At Lane, you'll have access to two full racks of servers, switches, and routers. You'll receive hands-on training with technologies from VMWare, Oracle, and Cisco, and get practical experience working with physical equipment such as servers, routers, switches, firewalls, network security devices, and wireless access points.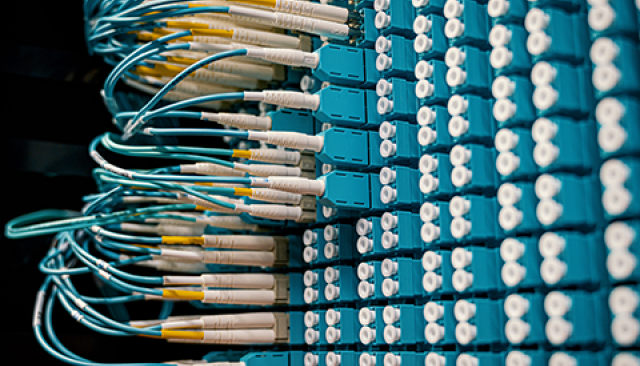 Get work experience and make career connections while earning credit through a Cooperative Education internship, all as a part of your degree!
All your options
Are you interested in solving real-world problems? Do you find processes and systems interesting? Lane's Computer Network Operations program is a fast-paced, exciting program that will help prepare you for a career within the network operations field.
Associates Degree
If you're a problem solver, who likes to work hard and dive deep into the technology that lets computers connect with each other, networking might be for you! With a career in networking, you'll have the opportunity to work with a wide variety of technologies, building a specialized career path that fits your interests. While much of your work will be keeping the tech behind the scenes running smoothly, you'll also need to be able to respond to urgent problems as they arise, ensuring no two days are ever the same.
WHAT YOU'LL LEARN
Create and design efficient, scalable computer networks
Configure various devices to communicate across networks
Install, configure and manage Microsoft Windows clients and servers
Install, configure and manage Linux clients and servers
Install, configure and manage Cisco routers and switches
Write programs to perform common system administration tasks
Design and maintain a secure network infrastructure
Monitor and manage various devices in your network infrastructure
Be prepared for certification exams, such as the Cisco Certified Network Associate (CCNA), CompTIA Security+, CompTIA Linux+, and Microsoft Certified Professional (MCP)
AFTER LANE
After completing the Computer Network Operating AAS degree, your degree can take you anywhere you want to go. Whether you want to work within Eugene's Silicon Shire or branch out to Seattle, Portland, or the Silicon Valley, your degree will propel you to new heights. Network Operations graduates have gone on to employment at University of Oregon, EWEB, Oregon Research Institute, Data Logic, Symantec, Peacehealth, Amazon, Oregon Social Learning Center, and more! Networking program alumni have also continued on to schools such as Oregon Institute of Technology and Oregon State University. If you're interested in earning your four-year degree, our advisors will be able to help you craft an academic plan to map out your options.
Stackable Credentials
Specialize your skills and hone your interests through stackable certificates! These certificates can be earned while pursuing your degree, or all on their own. Contact your advisor or the office of admissions to learn more
Career Pathways Certificate
While you're earning your Network Operations degree, you'll also earn the Network Monitoring and Management certificate with no extra classes! The Network Monitoring and Management certificate will give you the tools needed to monitor, analyze detected threats and anomalies in networks, and resolve them. You learn to automate routine tasks, which will help you manage and scale network infrastructure to meet demand.
Faculty Spotlights


Ready to learn more?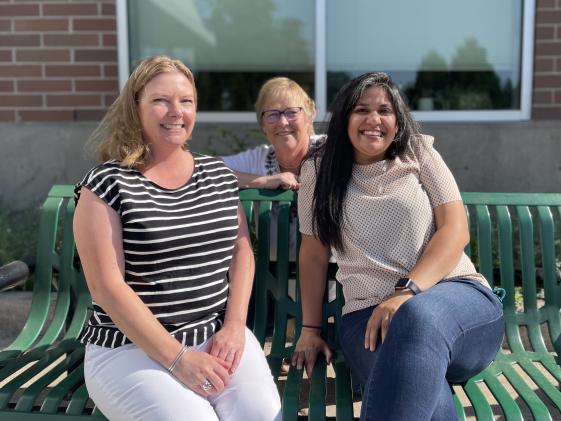 Talk one-on-one with a recruiter to learn more about what Lane has to offer you.
Admissions Office
Building 1, Room 102
Lane Community College
4000 E. 30th Avenue
Eugene, OR 97405
Hours:
M-T in person, 8:30-5:00 pm
F in person, 8:30-2:00 pm