Welcome to Your Student Government!
What is the Lane SGA?
The Lane Student Government Association (Lane SGA) is an organization of elected and appointed students who represent the Associated Students of Lane Community College (ASLCC) (ASLCC). All credit students at the main campus who are currently enrolled and have paid the mandatory student activity fee are members of the ASLCC. Elections are held annually in the Spring term to choose who will represent Lane SGA members in student government. The elected positions in student government are the President, Vice President, and eight Senators-at-large.
What does your Student Government do?
The purpose of the Lane SGA is:
To provide for the social, cultural, educational, and physical development of its members.
To establish and foster the recognition of the rights and responsibilities of students to fellow students, the college, the community, the country, and humanity.
To ensure that the student body is officially represented in all college-related activities and organizations.
To sponsor student organizations and provide limited funding for student clubs
Lane SGA Mission
The Lane Student Government Association is an advocacy organization dedicated to serving and protecting the needs and interests of students. We do this by raising awareness about the issues that affect students, providing avenues for access to decision makers on a state and local level; and developing student leaders and organizations to directly influence issues that affect our communities. Lane SGA is committed to working towards a more promising future for all students!
Lane SGA Vision
We envision a world of equality, where no one faces barriers because of their identity; where college education is free; where sustainable living is the normal; and a world where everyone is healthy and has equal access to secure housing and proper nutrition.
Lane SGA Values
Equity
Your Student Government is an association that is considerate of each and everyone's individual needs and will conduct ourselves in a manner that is inclusive and fair to all.
Respect
We are an association that equally respects and values the opinions and views of others.
Inclusivity
We are an association that welcomes all students, is cognizant of others' differing needs and ensures that those needs and beliefs are officially represented.
Accountability
Our actions and decisions ultimately affect all students. With this in mind, we hold ourselves to the highest of standards and scrutinize our own work ethics before others.
Sustainability
We understand that we are stewards of our environment and our community and thereby set forth practices that will benefit future generations to come.
Transparency
The processes that we take in order to come to decisions will readily be available to all students and structured in a manner that is easily understood.
Get Involved:
Interested in getting involved with Lane SGA? We have constant opportunities for student involvement whether that be on a volunteer basis or in an official capacity. Learn about our  meeting times or see contact information below to get involved!
More:
Contact ASLCCSG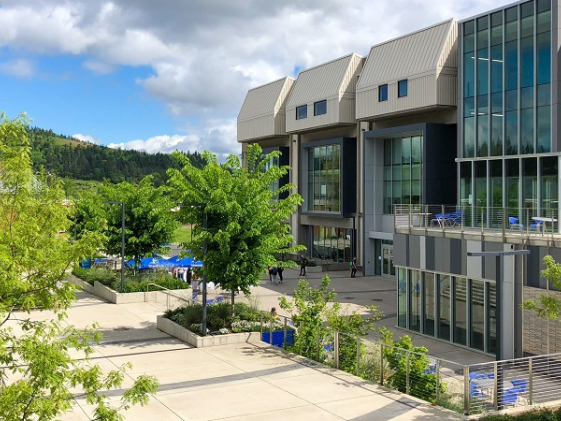 Lane Community College
Center Building, Room 201
4000 East 30th Avenue
Eugene, OR 97405

Inside the Student Life & Leadership Development office.