Scholarships achieve dreams!
When you give in support of LCC scholarships, your generosity helps countless students like Dave and Theresa, pictured, continue their education and achieve their dreams. 
"When I received news of an award from the Foundation, I can't tell you how much it meant to me. Sometimes you just really need that reassurance from outside that all your hard work is noticed." -Dave Vizcaino, Nursing
"My daughter is my inspiration, she is the reason I do it. The Foundation has been a huge part of setting us both up for success. This scholarship has meant that I don't have to work full time and go to school and be a single mother. It is the cushion that I can fall back on to help me meet my goals." - Theresa Williams, Nursing
Give the gift of education today! Contact our Scholarship Coordinator at scholarships@laneccfoundation.org or 541-463-5226 to get started!
Giving to Lane Community College Foundation - Scholarship Basics
The Need
Estimated annual total cost per student for tuition, fees, and books: $6,000 (3 quarters)
How We Respond
Total number of scholarships awarded annually: Approximately 300
Total amount of scholarships awarded annually: Approximately $800,000
How You Can Help
Scholarships may be gifted either as an annual scholarship or an endowed scholarship.
Named Annual Scholarships:
Are paid by the donor(s) each year
Minimum $7,500 commitment ($2,500 annual gift for three years)
Specific criteria may be defined by donor
May be named as directed by the donor in their scholarship agreement
Endowed Scholarships:
Are established by the donor(s) with a $30,000 minimum gift
Pay out 4% per year, based on three-year rolling average
Specific criteria may be defined by donor
May be named as directed by the donor in their scholarship or endowment agreement
May be gifted through current funds or an estate gift
Shining Star Scholarships:
Scholarship gifts under $2,500 per year are gratefully directed to this scholarship fund
Scholarships are awarded across all programs and majors
Endowed Scholarship Calculation Examples (based on current distribution rates)
| Annual Scholarship Distribution | Endowment level needed |
| --- | --- |
| $2,500 | $62,500 |
| $6,000 (full tuition, fees, books) | $150,000 |
| $9,000 (full tuition, fees - nursing) | $225,000 |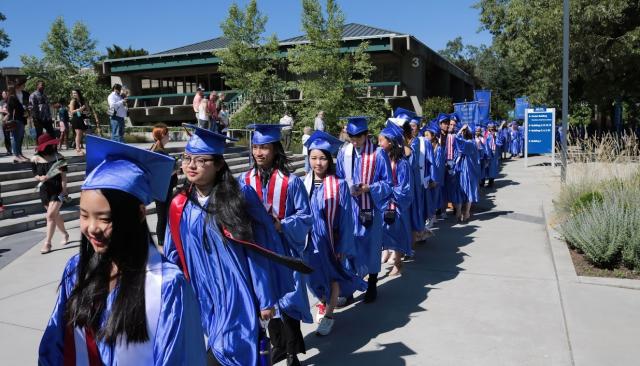 Invest in Student Success