Become a guide on the road to recovery.
What you'll learn
Physical Therapist Assistants are a valued component of physical therapy practice. You'll work with your supervising physical therapist to help patients meet their functional goals. Through exercises, symptom management, functional movement training, and self-care techniques, you'll help patients gain the skills and confidence to move confidently and comfortably and prevent injury. Through Lane's Physical Therapist Assistant program, you'll develop the skills you need to be an asset in any setting where people come for physical therapy.
Associates Degree
Do you find the human body fascinating? Do you like helping people live full, active lives? Do you enjoy working in a team that helps others improve their health and recover from injury or surgery? Physical Therapist Assistants (PTAs) are licensed healthcare providers that help prevent, restore, and optimize movement. Whether you're interested in working with athletes, amputees, injured workers, the elderly, or in general practice, Lane's PTA program can help you achieve your dreams.
Through online lectures, lab practice, and realistic simulations with faculty and peers, you'll learn the skills you need to thrive as a PTA. During the first year of the program, you'll need to be on campus at least one full day per week. In the second year, you'll continue with online lecture and in-person lab classes and complete three, full-time six-week supervised internships in an assigned physical therapy setting.
WHAT YOU'LL LEARN
Teaching appropriate exercises for improving strength, flexibility, coordination, agility, and performance
Instructing and progressing mobility skills, such as bed mobility, sitting, standing, walking, and higher level mobility skills depending on the condition and plan
Using ultrasound, electrical stimulation, heat, and other tools to help reduce pain, improve strength, and assist tissue healing
Using rehabilitation equipment and aids to optimize patient safety and function
Performing selected tests and measures that inform clinical decision making when implementing the physical therapy plan of care
Collecting and reporting relevant data, such as aerobic capacity, pain, cognition, joint motion, muscle performance, neuromuscular development and performance, posture, self-care, circulation, respiration, ventilation, and home/community management
Communicating effectively with a variety of healthcare providers, such as nurses, doctors, and other rehabilitation professionals
Advocating for patients, the public, and health care through engagement with the American Physical Therapy Association, Oregon Physical Therapy Association, and providing at least 10 hours of community service for a non-profit organization.
Practicing responsibly in accordance with the American Physical Therapy Association Standards of Ethical Practice for the Physical Therapist Assistant
AFTER LANE
You can work in a wide variety of settings such as outpatient physical therapy clinics, schools, public health clinics, hospitals, skilled nursing facilities, and in-home care! Do you like exploring new places and meeting new people? You can work as a traveling PTA and go wherever you're needed! Lane PTA graduates are successful in finding employment both in Oregon and beyond.
Some Physical Therapist Assistant courses transfer to Pacific University and Oregon Institute of Technology. PTA's that earn four-year or advanced degrees may choose to become educators, researchers, and administrators.
State of the Art Facilities
Whether you're completing your degree at Lane's main campus in Eugene or at our partner campus at Rogue Community College in White City, you'll have access to well equipped, state of the art classrooms. Equipment and materials including a Shuttle Balance, standing frames, biophysical agents, and more allow for authentic practice and skill building that meets the needs of today's physical therapy provider.
Faculty Spotlights


Marc Duyck
Interim Program Coordinator through June 2023
Ready to learn more?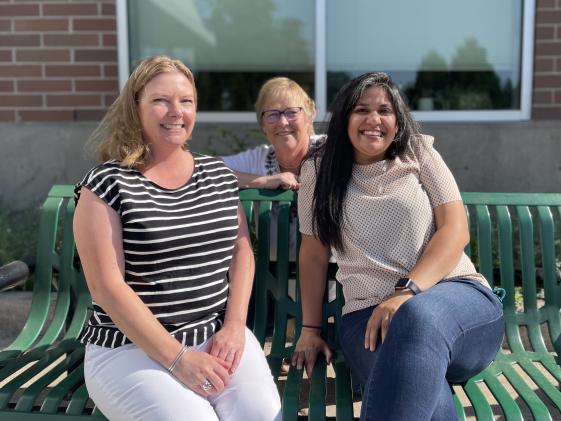 Talk one-on-one with a recruiter to learn more about what Lane has to offer you.
Admissions Office
Building 1, Room 102
Lane Community College
4000 E. 30th Avenue
Eugene, OR 97405
Hours:
M-T in person, 8:30-5:00 pm
F in person, 8:30-2:00 pm