Every day you'll immerse yourself in the world of aviation.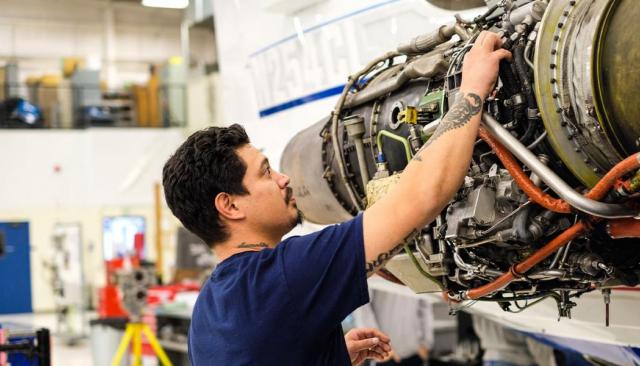 As an aviation maintenance student, your hands-on classes are located at Lane's Aviation Academy, next to Eugene's Mahlon Sweet Airport. In our 22,000 sq.ft corporate hangar, you'll have the opportunity master the equipment, while sharing a backyard with commercial cargo planes right at the end of runway 34L. Every day you'll immerse yourself in the world of aviation as you eat your lunch 300 feet from landing aircraft.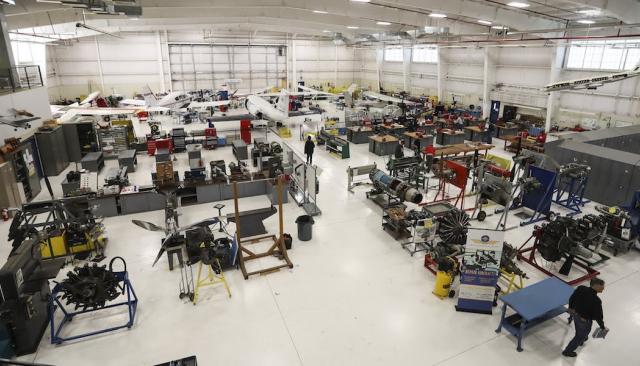 You'll train using flyable aircraft and state-of-the-art training stations.
Inside our hanger, you'll train using flyable aircraft and state-of-the-art training stations. You'll learn jet systems and turbine engine theory on Lear 25D jet as well Allison 250 turboshaft engines. Piston engine work is conducted on our fuel-injected, turbocharged PA-23-250T Piper Aztec. Electronics and electrical troubleshooting are handled by our NIDA 130E trainers. Avotek trainers round out our education on aircraft pressurization, oxygen systems, vapor cycle machines and landing gear systems. Every year we add exciting new elements to our curriculum to keep up with changing industry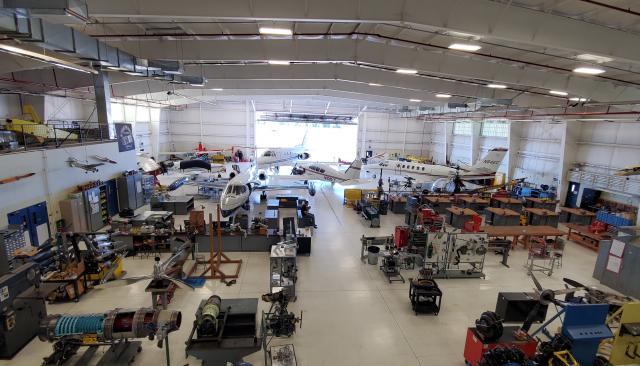 Second year students often take advantage of maintenance internships from the local aviation industry in addition to their AMT coursework. Aircraft fabrication, helicopter repair and general aviation maintenance are all well represented. 
What you'll learn
Our FAA Approved Part 147 School will prepare you to be a Airframe and Powerplant Certificated Mechanic! Our graduates have found rewarding careers in the heavy-lift helicopter industry, regional airlines, and general aviation.
Associates Degree
Lane's Aviation Maintenance program meets and exceeds all FAA Part 147 requirements and emphasizes hands-on learning that prepares you for your FAA exams and your career. Every day you'll learn something new and valuable. In a single term you could perform a riveted aluminum repair, a carbon fiber layup, multimeter electrical troubleshooting, a landing gear check on a jet, and an engine overhaul with power assurance runs. Once you've completed your degree you'll be able to tackle almost any aircraft repair.
WHAT YOU'LL LEARN
Aircraft inspection, ground service, and operation.
Welding, sheet metal structural repair, composite structures and repair.
Electrical theory, troubleshooting, and aircraft electrical components, systems, and schematics.
Aircraft fuel, engine, communications, hydraulic, and pneumatic systems.
Turbine operation and overhaul, piston engine operation and overhaul, propeller theory and repair, and helicopter rigging and blade tracking.
Pass the FAA written, oral and practical exams for certification.
AFTER LANE
Aviation Maintenance graduates readily find work in the Pacific Northwest with heavy-lift helicopter companies, regional airlines and flight schools. Job availability is at a record high and career advancement in aircraft maintenance happens quickly. After three years of experience, an Airframe and Powerplant Certified (A&P) mechanic can attain their Inspection Authorization and make important airworthiness decisions for their aircraft. Soon after that, A&Ps can move into maintenance management positions or consider working for the FAA as air safety inspectors.
Being an A&P is a rewarding, full-time job, however some mechanics desire additional, focused training to take their careers further. Lane Community College graduates have pursued additional flight training, non-destructive testing certification, technical writing courses and undergraduate studies in engineering or business.
Ready to learn more?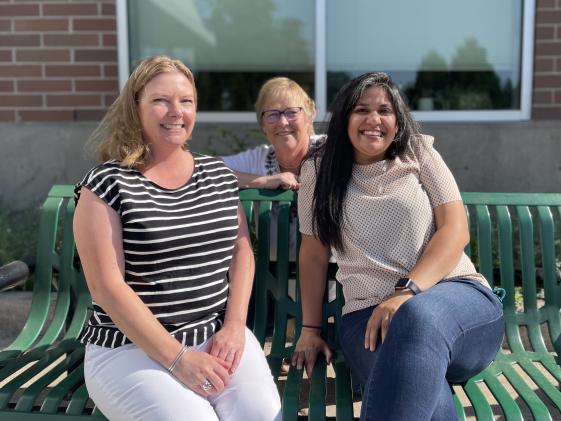 Talk one-on-one with a recruiter to learn more about what Lane has to offer you.
Admissions Office
Building 1, Room 102
Lane Community College
4000 E. 30th Avenue
Eugene, OR 97405
Hours:
M-T in person, 8:30-5:00 pm
F in person, 8:30-2:00 pm