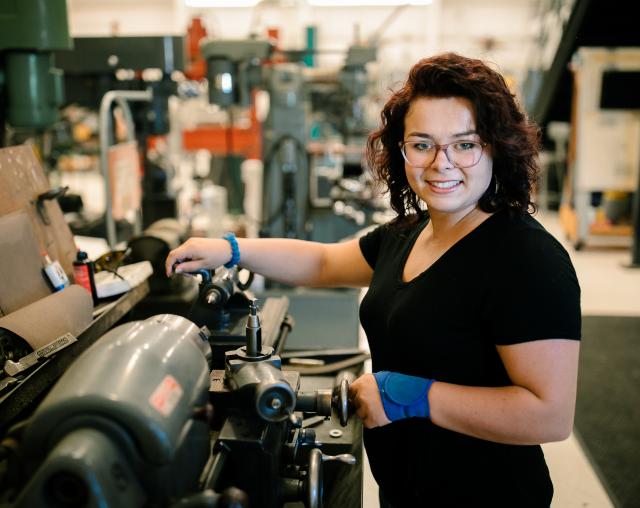 It's really the best deal in education. That AMT degree is a ticket that says, 'I have foundational experience and I'm worth it!'
The Maintenance Aviation Technician program at Lane Community College helped Autumn Eells pursue her goal of becoming a pilot. 
Autumn stepped out of her pilot training in another part of the state to find a way to pay for her training and learning more about the machines she loves seemed like a logical step. 
"It was a know the beast you ride type of thing. It's really the best deal in education," she said about the Aviation Maintenance Technician (AMT) program at Lane. "That AMT degree is a ticket that says, 'I have foundational experience and I'm worth it!'" 
It also helped that aviation maintenance is a high-wage, high-demand career that will enable her to afford more time in the air. 
Autumn had options to continue her education and said she chose Lane because of the smaller classes and the responsiveness and support she received during the application process. Her advisor also encouraged her to pursue scholarships, a benefit that she didn't believe she'd qualify for. 
"There were so many scholarships I never would have thought to look for. I assumed most people who get scholarships would be those pursuing a four-year education. I learned that was not the case," she said.
She ended up receiving nearly $6,000 in scholarships, which allowed her to focus more on her studies and stress less about her financial situation. She also shares her story and encourages other students to apply for Foundation scholarships as a Foundation Scholarship Ambassador. 
The program also provides hands-on experience through cooperative education, which places students in internships in the community to receive practical training in their career field. 
"Our instructors are very supportive," she said. "As we were preparing for our internships, my classmate and I were asking our instructor questions about how to prepare. Some of the questions seemed like things you'd go to your family for. At Lane, it feels like that same support. I think it makes a big difference in how they care about you. It's that support and community feel. You know they've got your back."
Autumn is currently working in her internship program and studying for her AMT licensure. She knows that her combination of piloting and mechanic skills make her more marketable in her next steps. Based on 2020 Federal Aviation Administration data, women pilots (including students) make up about 8% of the country's pilots and fewer than 3% of the country's aviation mechanics are women. 
"You're kind of like a unicorn. Minority doesn't quite cover it," she said. "I know it will likely bring its own challenges, but it feels like being a trailblazer sometimes."