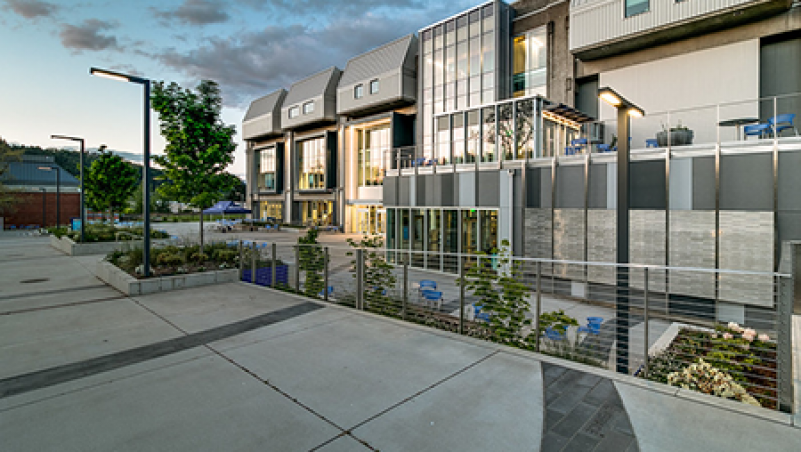 EUGENE, Ore.– The Dale P. Parnell Center for Learning and Student Success, otherwise known as the Center Building on Lane Community College main campus in Eugene, has achieved LEED Silver certification as a result of major renovations completed as part of the 2008 LCC bond.
LEED (Leadership in Energy and Environmental Design) is a worldwide green building rating system that recognizes sustainability achievement and leadership. Certification is granted by the U.S. Green Building Council.
Center Building renovations were completed in 2015 but LEED certification took longer. "The Council usually certifies whole-building remodels," said Facilities Director Jennifer Hayward. "Our project was substantial but not everything needed renovation, so the certification process was complex and took a long time." Hayward credits LCC Sustainability Coordinator Luis Maggiori for his leadership role in the certification process, and Facilities Engineer Troy Hanson for the difficult engineering calculations required to qualify for LEED certification.
Built at the core of the main campus over 50 years ago, the Center Building was designed to be what its name implies—the center and heart of campus community life. Renovation was needed to meet the 21st century requirements of students and staff. Some features of the renovation:
22 percent less energy use by cost due to higher efficiency air handling units, direct digital controls upgrade for Heating Ventilation and Air Conditioning (HVAC) systems, high efficiency lighting systems, automatic daylight controls, double-door exterior entrances to minimize outside air intrusion, and other features.
24 percent less potable water use as a result of new high efficiency plumbing fixtures.
Reduction in heat island effect from building hardscapes by using reflective materials in the surrounding plazas.
98 percent reuse of building components such as wall and flooring materials.
95 percent of construction waste diverted from the landfill, earning an exemplary performance score.
Indoor Air quality (IAQ) plan requiring low-emission adhesives, sealants, paints and coatings, flooring systems and composite wood.
Innovation in Design (ID) credit for raised planter beds used to grow organic fruits and herbs in alignment with the college's Integrated Pest Management (IPM) plan.
The renovations instantly attracted staff and student traffic and the building is a point of pride for the campus, says Maggiori.
For more information about Lane Community College:
Lane is an AA/EEO/Veterans/Disabilities Employer
###
Lane Community College educates over 25,000 students annually at six locations across Lane County and online. Students and alumni from all 50 states and 79 countries create more than an $850 million dollar impact on the local economy, helping to support more than 13,000 local jobs. Lane provides affordable, quality, professional technical and college transfer programs; business development and employee training; academic, language and life skills development; and lifelong personal development and enrichment courses.