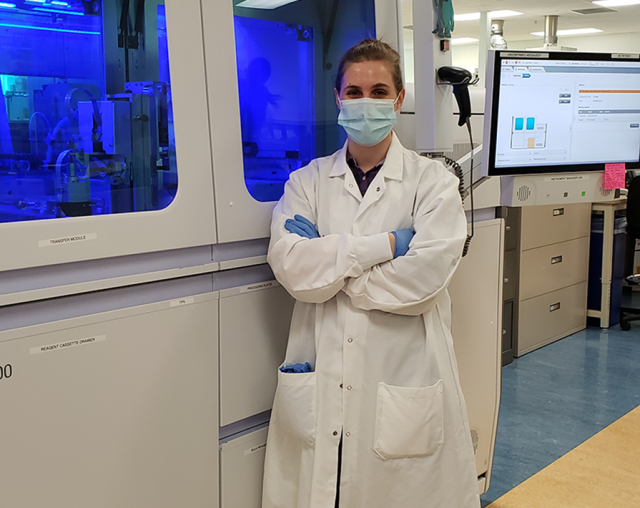 I knew that, after being out of school for a few years, I would need extra attention and to have resources at the ready. Lane provided exactly what I needed.
Scientist Gina Knox works at lighting speed developing tests for Covid-19 in a lab at Providence Hospital in Portland. The lab was the first private lab in Oregon to develop a test and has since performed about a third of all Covid-19 tests performed in Oregon and Southwest Washington. Gina works with a close-knit team of three and she credits her training in biology—and dance—at Lane Community College for her ability to meet the challenge.
After high school, Knox enrolled at Lane to study dance. She earned an Associate of Arts Oregon Transfer degree in 2003. In 2012 she decided to pursue a career in medical microbiology. "There was no question in my mind that I would return to Lane. I knew that, after being out of school for a few years, I would need extra attention and to have resources at the ready. Lane provided exactly what I needed."
At LCC, Knox says, you learn how to learn, how to be an effective student, and how to be on a team—something critical to lab work. "There are some people who know every theory, who know every test, who know why we do every single thing, and every reagent and why we use it. And then there are some people who don't know all that stuff but they do know how do the work, and how to be on a team, and that's super important."
After Lane she attended the University of Oregon briefly before entering the Oregon Institute of Technology-Oregon Health and Science University program in clinical laboratory science. She also completed an online course in immunology from Berkeley. "I got my degree from OIT/OHSU and then became board certified by the ASCP. This particular degree and certification are actually the only way that one can work in a clinical lab, performing tests in Oregon." Two days after she graduated she was hired by St. Vincent Medical Center.
Knox worked as a generalist at St. Vincent for a year and then transferred to the Providence Core Microbiology and Molecular Diagnostics Lab. In just three more years she was tasked to develop test kits for Covid-19 when the worldwide coronavirus pandemic erupted.
Knox found herself well prepared. She said Lane's dance program taught her "how to be an actual person" and how to be fearless. The science program taught her concepts and reasoning that have stayed with her. At Lane she learned "how to actually study and how to internalize information."
Since working at Providence, Knox has helped develop four different assays for Covid-19. "The first was a lab-developed test that we worked on from mid-February until mid-March. On March 18, we debuted a commercially-prepared assay on our cobas 6800 instrument. It can run hundreds of tests per day, and we run it 24 hours a day now."
The pace of work has been breathtaking, says Knox. "What we've done in the last four months would normally take about two years. It's been nonstop. For a while there it was 16-hour days every single day, then it got a little better, then all of a sudden we had a six-hour turnaround time which is completely, physically impossible. But it was like, okay, let's do it anyway."
Knox says the need for clinical laboratory scientists will increase. "We are going to have a huge shortage in the next few years. In fact, about 40 to 50 percent of our workforce is going to retire in the next five years. Virtually every lab in the country is staffed with people who would like to retire soon."
Clinical biology is a great career for people who want to work in medicine but not necessary work directly with patients, says Knox. It's well paying, interesting, and there will always be work.
LCC is a great place to start with a solid curriculum and talented, caring faculty. Knox credits many instructors for their support, including dance instructors Bonnie Simoa, Kim Vetter, Florabelle Moses, Anita Sanford, and Cheryl Lemmer, and science faculty Gary Mort, Gail Baker, Brooke Taylor, and Stacey Kiser. You must fail in order to reach your potential, says Knox, adding that "Failing one of Stacey's exams is basically a rite of passage. I sincerely hope she has not eased up on the difficulty in recent years."