Lane strives for excellence in energy education and energy use in campus operations by including students and staff in educational opportunities every step of the way.
Lane's Renewable Energy Systems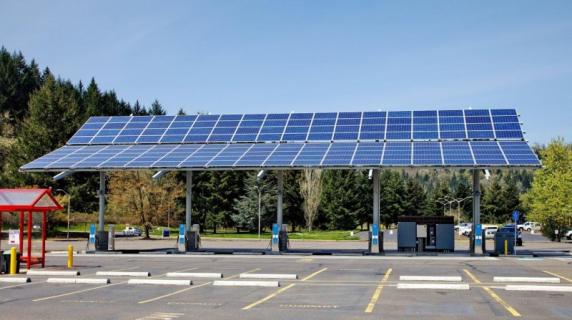 Solar Electric:
There is about 43 kW of solar electric generation on site at Lane Community College's main campus, including:
A total of 6 kW of pole mounted photovoltaic arrays is installed to the east of the Family Childcare Program Buildings 24 thru 27.
A 36 kW solar station in the west parking lot that feeds renewably generated power into Lane's electric grid and shades nineteen electric vehicle charging stations.
3 kW of photovoltaic modules installed by our educational program is on the roof of Building 16.
Several other small solar electric installations power individual systems like gate motors, water fountains, and emergency telephones can be found across the main campus.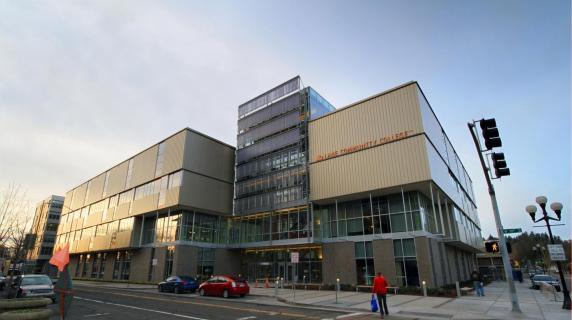 Solar Thermal:
Solar thermal systems are used to heat domestic water for multiple buildings at both the main campus and downtown buildings. Using the sun for heating water reduces carbon emissions from natural gas fired water heaters.
A solar thermal installation on Building 30 at the college's main campus provides domestic water for Building 5 (including locker room showers), Building 7, and Building 30. Excess hot water circulates into the heating water for the campus building system.
Solar thermal collectors on the front of the Downtown Building 61 produce hot water for both the academic and housing buildings.
Ground Source Heat Pumps: Ground Source Heat Pump systems are used to heat and cool main campus and downtown buildings. Examples are the Family Childcare Program Buildings 24, 25, 26, 27, and 61.
Recent Energy Efficiency Projects
1. Projects Funded by the Bond and a State Economic Stimulus Allocation
The Center Building was re-roofed with a single white membrane long-life roof system and additional insulation.
A remodel of Building 2 decreased energy use with:

A new roof with increased insulation.
Lighting efficiency improvements.
A heat recovery system that uses excess heat from the data center to heat the rest of the building.

Building 4 and Building 5 remodels decreased energy use with:

New roofs with increased insulation.
Lighting efficiency improvements.
Natural ventilation strategies that decrease the need to mechanically heat and cool the buildings.
Improved efficiency in the heating, ventilation and air conditioning units.

A laundry dryer heat recovery system for the college's commercial laundry.
Exterior lighting controls were upgraded on the main campus to help ensure that exterior lights are not on during daylight hours. Perimeter parking lot lights also operate with a motion sensor to reduce the amount of light in the parking lot areas that are not occupied during operational hours. Over 365 compact fluorescent fixtures located in the soffits of main campus buildings were replaced with high-efficiency LED fixtures. At least ninety-five percent of all exterior lighting at the main campus was also converted to LED.
Building-level utility sub-metering for electricity, natural gas, domestic hot water, domestic cold water, irrigation, heating water, and chilled water is being installed.  This sub-metering will help the college monitor and develop energy and water conservation projects.
2. Health and Wellness Building
A new Health and Wellness Building (Building 30) was designed to operate using 42% less energy than a traditional building. The college constructed this building to receive LEED Gold certification. This project was constructed using state capital construction funds and donations.
3. Building Automation System Strategic Upgrades
Building automation system upgrades were phased in from 2010 through approximately 2015 using the general fund major maintenance budget. Those upgrades help the college better control heating, ventilation and air conditioning systems for energy conservation and occupant comfort.
4. Temperature Set-Points
Seasonal indoor temperature set-point standards are used that optimize energy efficiency while maintaining comfort and quality learning environments. Employees are encouraged to dress in layers during cooler months of the year to optimize individual comfort.  Winter set points are 68°F to 72°F. Summer set points are 72°F to 76°F.