The Institute for Sustainable Practices committed to get Lane Community College certified as the 5th Bee Campus in the state of Oregon through the Xerce's Society and Bee City USA. We have been working on this certification since Fall 2018 and were awarded the certificate in May 2019. All macro-photography by August Jackson.
Sustainability is one of Lane's formally adopted Core Values. This Core Value says, in part, that we will support and improve the health of systems that sustain life; provide a learning environment that builds understanding of sustainable systems, with the competence to act on such knowledge; and equip students and staff to participate in building a sustainable society while cultivating connections to local, regional, and global communities.
One of our goals as part of Bee Campus USA will be to help learners understand that pollinators are a linchpin in the survival of living systems, both human and non-human. We want to help learners move beyond the popular focus on domesticated European honeybees to an awareness of the hundreds of native species right here in our bioregion. We hope to foster an understanding that native bees and other native insects are more efficient pollinators than domestic bees and that a diversity of wild bee and other insect species provides a greater chance of recovery from disease, extreme weather, and climate change. We also hope to foster an understanding that because growing healthy food depends upon pollinators, conservation of native species will play an important role in food security in the future.
Becoming a Bee Campus benefits Lane Community College by:
Addressing pest problems in a less toxic manner
Heightening awareness of seasonal changes
Improving food production in our edible beds around campus as well as in the Learning Garden
Ensures survival of vital animal species that surround campus
Stimulates the local plant nursery market by our increased demand of native, pollinator friendly plants & seeds
Educates visitors to our campus about the importance of pollinators in our community
Visit these websites for further information about Bee Campus' or the Xerce's Society. And make sure to like and follow Bee City USA on Facebook and Twitter.
Lane Receives Bee Campus USA Designation
Lane received their Bee Campus USA designation May 7, 2019.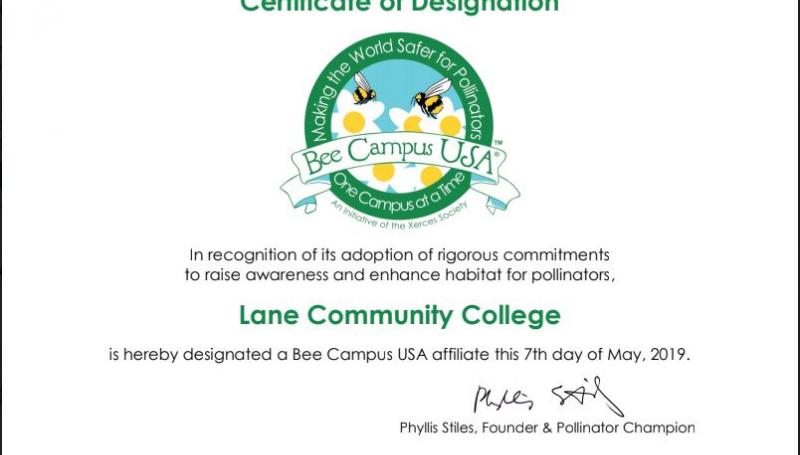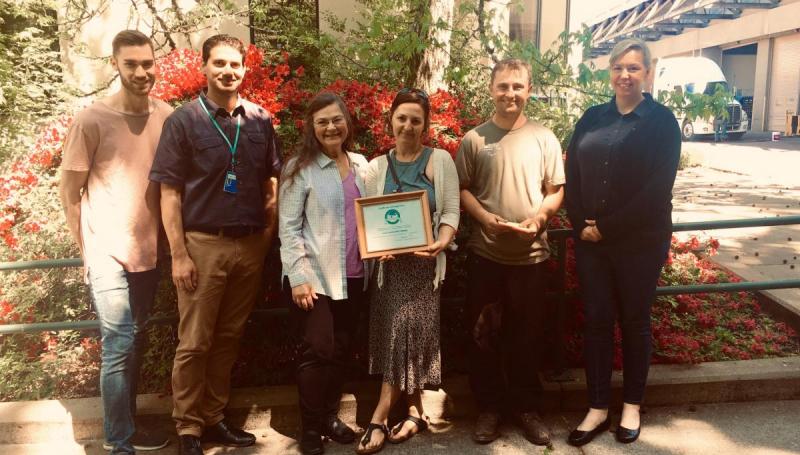 Past Events:
Spring Planting Event!
During Week 1 of Spring Term 2019 we hosted a planting event in four different locations around campus to create a "BEE-autiful" pollinator friendly buffet!
The plants chosen promote pollinator health, specific to Willamette Valley Pollinators.
View the information on the plant species & pollinators document to learn about what we planted and which species benefit!
If you're interested in planting your own garden, the Xerce's Society recommends planting local, native plants for the Willamette Valley, view the Native Plants for Pacific Northwest Gardens document for further insight.
Willamette Valley Pollinator Panel Discussion
We invited August Jackson from Mount Pisgah Arboretum & Rhianon Thomas from the Army Corps of Engineers to present information about our local Willamette Valley pollinators.
This event was moderated by our very own Susie Holmes, Biology Instructor in the Science Division (pictured below on the Right). 
August Jackson (pictured below on the Left) presented to us information from his research at the Arboretum and showed his amazing macro photography of our local bees.
Rhianon Thomas presented her dissertation research about pollinators that was conducted while she was in the Army Corps of Engineers.