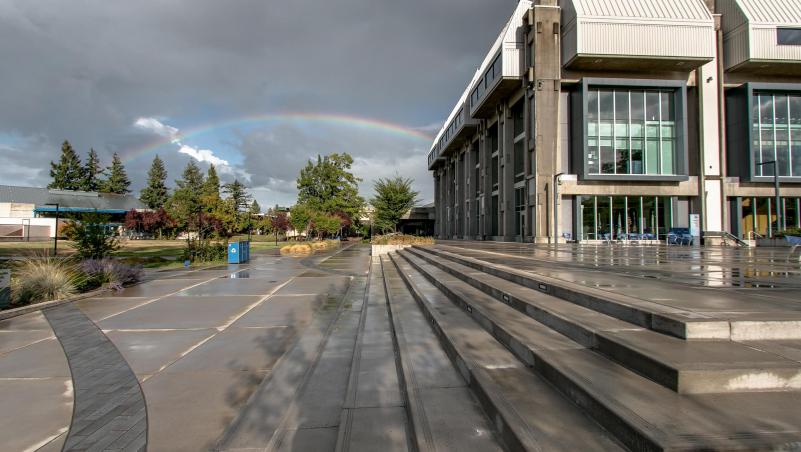 Dear LCC Community,
I am writing to address the racist graffiti that was discovered today on Lane's main campus. The graffiti has been removed and actions to address the issue are underway.
Our values at LCC include fostering a diverse and inclusive community that celebrates the richness of each individual, including our backgrounds and heritages. Incidents like this stand in direct opposition to the values we practice.
Racism, defined by Merriam-Webster as "behavior or attitudes that reflect and foster this belief: racial discrimination or prejudice" has no place in our institution, and we unequivocally condemn any form of discrimination or prejudice. We believe in the power of education to broaden minds, challenge perspectives, and build bridges between individuals from all walks of life. Acts of racism not only undermine these principles, but also inflict harm on our fellow students, faculty, classified professionals, managers, and community.
The college is actively investigating this incident. I assure you that appropriate action will be taken to hold those responsible for these actions accountable. LCC is committed to creating an environment where everyone feels safe, respected, and valued. Everyone's voice matters, and together, we can ensure that our campus remains a place where everyone can thrive.
We encourage everyone to stand in solidarity against racism and to support one one another during times like these. Reach out to your peers, engage in open conversations, and seek out support. 
LCC provides several options for students and employees during times like this:
Students may reach out to the Mental Health & Wellness Center to access the following free services in building 18:  Confidential sessions available with a licensed therapist.

The Concepción "Connie" Mesquita Multicultural Center is a safe place where students visit to meet with faculty or call (541) 463-5276.

Everyone in the campus community can reach out to Public Safety, which promotes a safe, secure, and respectful learning environment for all. A list of services can be found on the website.  Please report any safety concerns directly to Public Safety. 

Associate Vice President Shane Turner also offers an avenue for reporting concerns through Human Resources.  "Should you experience or observe instances of harassment, discrimination, or bias, please use this link that also appears at the bottom of every College web page with the text: 'report a complaint or concern' to share the information." Should you have any questions, please don't hesitate to contact AVP Turner at turnerms@lanecc.edu.
Thank you for your commitment to fostering a culture of respect and understanding.
Sincerely,
Stephanie Bulger, President
Contact
Brett Rowlett, Executive Director of External Affairs
Email
rowlettb@lanecc.edu
Lane Community College educates over 15,000 students annually at six locations across Lane County and online. Students and alumni from all 50 states and 79 countries create more than an $675 million dollar impact on the local economy, helping to support more than 8,900 local jobs. Lane provides affordable, quality, professional technical and college transfer programs; business development and employee training; academic, language and life skills development; and lifelong personal development and enrichment courses.