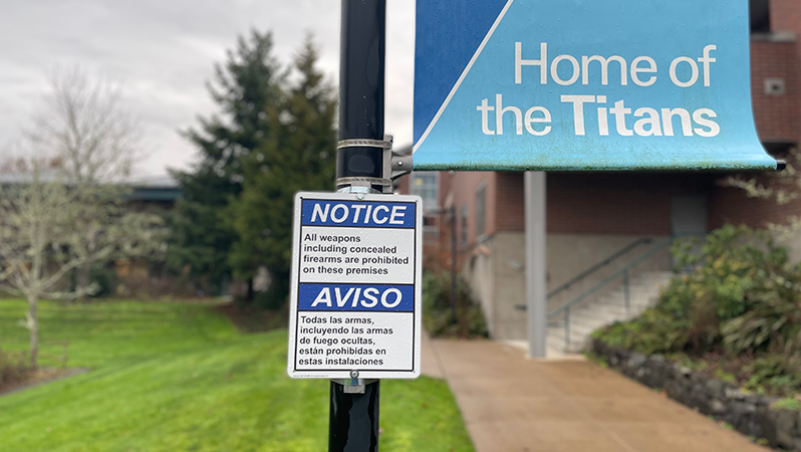 EUGENE, Ore. — "Concealed carry" is no longer allowed at Lane Community College. The LCC Board of Education updated the firearms policy at their Nov. 17 meeting to include prohibition of firearms possessed by concealed handgun licensees on college property. Signs were installed at college locations during last month's winter break to alert students, employees and community members about the change.

The updated policy, "strictly prohibits any person, including students, employees, visitors, contractors and vendors, from being in possession of, or giving the appearance of being in possession of, any firearm, dangerous or deadly weapon, or destructive device while on College business, or at any other time while in or on College owned or controlled buildings, offices, premises, sites or vehicles, or at activities under the jurisdiction or sponsorship of the College."

The Oregon Legislature passed Senate Bill 554 during the 2021 session, authorizing school district, community college, and public university governing boards to adopt policies prohibiting all firearms on campus, including firearms possessed by concealed handgun licensees. The new law was effective as of Sept. 25, 2021. 
Persons who violate a college policy are guilty of a Class A misdemeanor if they are licensed to carry concealed and are convicted of possessing a firearm in violation of a board adopted policy. All others who violate the law regulating firearms in public buildings, if convicted, are subject to a Class C felony.
On-duty law enforcement officers licensed with the Oregon Department of Public Safety Standards and Training (DPSST) or equivalent state or federal authority authorized to license the possession of firearms by law enforcement officers may possess firearms while on college property and acting within the scope of their employment.
Contact
Brett Rowlett, Executive Director of External Affairs
Email
rowlettb@lanecc.edu
Lane Community College educates over 25,000 students annually at six locations across Lane County and online. Students and alumni from all 50 states and 79 countries create more than an $850 million dollar impact on the local economy, helping to support more than 13,000 local jobs. Lane provides affordable, quality, professional technical and college transfer programs; business development and employee training; academic, language and life skills development; and lifelong personal development and enrichment courses.