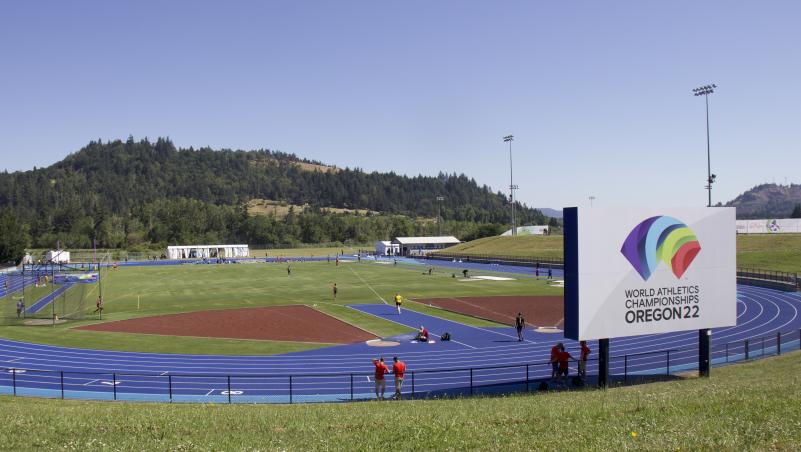 EUGENE, Ore. — Lane Community College is no stranger to track and field. With its main campus located in Eugene, Oregon, also known as Track Town, U.S.A., and a history of winning conference championships and producing elite athletes, Lane was the obvious choice to host the practice facility for this year's World Athletics Championships.
Athletes from around the globe are realizing a lifelong dream as they compete at the World Athletics Championships (WCH Oregon22), held July 15-25 in Eugene, Oregon, the first time the event has been hosted in the United States. While most of the medals will be awarded at the University of Oregon's Hayward Field — the heart and home of track and field in the U.S. — coaches and athletes are well aware that competitions can be won or lost based on what happens during practice.
"LCC has a storied history of developing world-class athletes and we're proud to provide them the facilities and support to fulfill their dreams on and off the field," said LCC President Stephanie Bulger. "We are thrilled that our facilities can offer the world's best athletes the opportunity to prepare themselves to do their best and achieve their own dreams at these World Athletics Championships."
Those practicing at LCC have access to the Titans' track and field facility with an IAAF-certified, Olympic-caliber surface that is the same as those installed at Hayward Field and other world-caliber tracks. The Beynon/Atlas BSS 2000 surface is a two-tone blue color oval shape with light blue perimeter/exchange zones and dark blue competition areas. The track and field complex was part of the 2008 bond and planned and upgraded with IAAF specifications. Since then, LCC has been the official practice site for the 2012, 2016, and 2021 USA Olympic Trials, the 2014 IAAF World Junior Champs, and now the 2022 IAAF World Athletics Championships.
"We had our student athlete experience in mind when we planned the facility in 2008," said Grady O'Connor, coordinator of Physical Education, "yet we also made a decision to do what we could to design and install a facility that could support all events Track Town, U.S.A. so frequently hosts."
The facility is regularly used by the LCC Titans men's and women's track and field teams, who successfully swept the 2022 Northwest Athletic Conference Track and Field Championships. The men's team has won the championship each season since 2013 and the women's team has come in first or second since 2015.
The creation of a world-class track and field facility helps LCC support its student athletes, as well as host major track and field events and practices, said Greg Sheley, LCC athletics director.
"We have an outstanding Track and Field coaching staff, led by Head Coach Bill Steyer," Sheley said. "This staff, combined with our world class facilities, allows our student athletes a chance to be coached by great leaders and practice at a top-notch facility."
Athletes and coaches use LCC track to prepare for the 2022 World Athletics Championships. Photo credit: Darlene Waters
Among those taking part as athletes or supporting those athletes in some way are a handful of notable LCC alumni:
Former Lane Titan, Tristan James is competing at WCH Oregon22 for Dominica, his father's home country. James is the former LCC record holder in the triple jump. He then competed for the University of Oregon where he earned six individual titles and three team titles.
Former Titan and Brazilian Olympian, José Luis Barbosa has been spotted at LCC as well. The middle distance runner participated in four Olympics Games: 1984 Los Angeles; 1988 Seoul Korea; 1992 Barcelona and 1996 Atlanta. He is currently the cross country and track assistant coach at Bellevue University in Nebraska.
LCC alum and Oregonian Tom Pappas is a former IAAF world champion. He won the decathlon in the 2003 IAAF World Athletics Championships. Today, Pappas owns and operates Lane5 CrossFit in Eugene.
The World Athletics Championships continues this week and conclude on Sunday, July 25.
About Lane Community College
Nestled in the Willamette Valley, between the Cascade Mountains and the Pacific Ocean, Lane Community College serves students through transfer, career technical, and personal enrichment programs. Home to more than 228,000 people, the Eugene/Springfield area is the second largest population center in the state, and Lane serves a 4,600 square mile area, an area larger than the states of Delaware and Rhode Island combined.
About World Athletics Championships
The World Athletics Championships are a biennial athletics competition organized by World Athletics (formerly IAAF, International Association of Athletics Federations). Alongside the Olympic Games, they represent the highest level championships of senior international outdoor athletics competition for track and field athletics globally, including marathon running and race walking. This year's event is being held in Eugene, Oregon, the first time the event has been held in the United States.
Contact
Brett Rowlett, Executive Director of External Affairs
Email
rowlettb@lanecc.edu
Lane Community College educates over 25,000 students annually at six locations across Lane County and online. Students and alumni from all 50 states and 79 countries create more than an $850 million dollar impact on the local economy, helping to support more than 13,000 local jobs. Lane provides affordable, quality, professional technical and college transfer programs; business development and employee training; academic, language and life skills development; and lifelong personal development and enrichment courses.