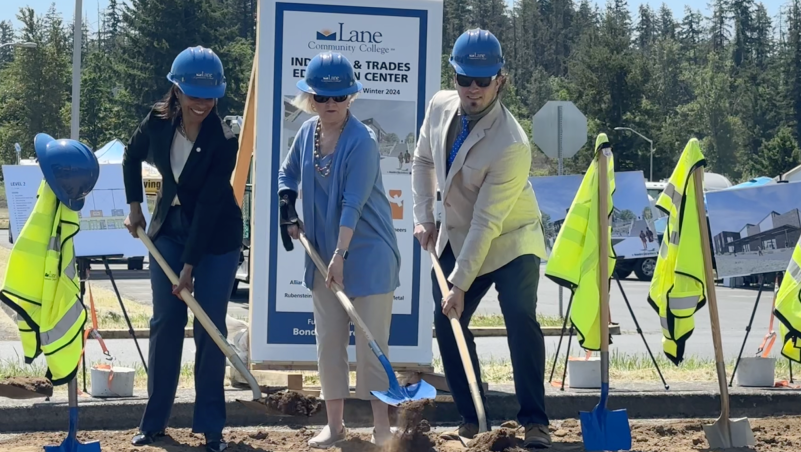 EUGENE, Ore. — Lane Community College (LCC) marked a major milestone today with the groundbreaking ceremony for the new Industry and Trades Education Center (ITEC). The event, held on the LCC main campus, was attended by college board members, faculty, staff, students, and prominent community and business leaders.

The ITEC project, made possible by the voter-approved $121.5 million bond measure in 2020, represents a significant investment in the future of the region's workforce. The new 55,310-square-foot, three-story building will house innovative programs, including Apprenticeship Training, Aviation Unmanned Aircraft Systems, Construction Technology, and Manufacturing Technology. Additionally, the ITEC will feature faculty and student advising offices and an interdisciplinary fabrication laboratory.

Rosie Pryor, Chair of the Lane Community College Board of Education, who has served three terms and led the successful bond campaign, expressed her enthusiasm for the project. "The ITEC project will not only revitalize our campus but also significantly impact our local economy. We are grateful to our community for their support and look forward to seeing the benefits this center will bring to our students and the broader community."

President Dr. Stephanie Bulger underscored the importance of the ITEC project. "Our goal is to create a workforce and advanced technology hub, adaptable to emerging technologies, thereby supporting local economic growth. This facility is a testament to our commitment to prepare our students for the future and to meet the changing demands of industry."

Steve Wildish, a local business leader and LCC Foundation Board member, highlighted the project's significance to the business community. "The ITEC will play a vital role in developing a skilled workforce, thereby driving innovation and economic growth. We eagerly anticipate the wealth of opportunities this center will provide."

The ITEC is slated for completion in Winter 2024. Once completed, the ITEC will be a testament to the community's investment in the future of education and workforce development, and a cornerstone in Lane Community College's ongoing commitment to meet the needs of the 21st-century learner.
Contact
Brett Rowlett, Executive Director of External Affairs
Email
rowlettb@lanecc.edu
Lane Community College educates over 15,000 students annually at six locations across Lane County and online. Students and alumni from all 50 states and 79 countries create more than an $850 million dollar impact on the local economy, helping to support more than 13,000 local jobs. Lane provides affordable, quality, professional technical and college transfer programs; business development and employee training; academic, language and life skills development; and lifelong personal development and enrichment courses.