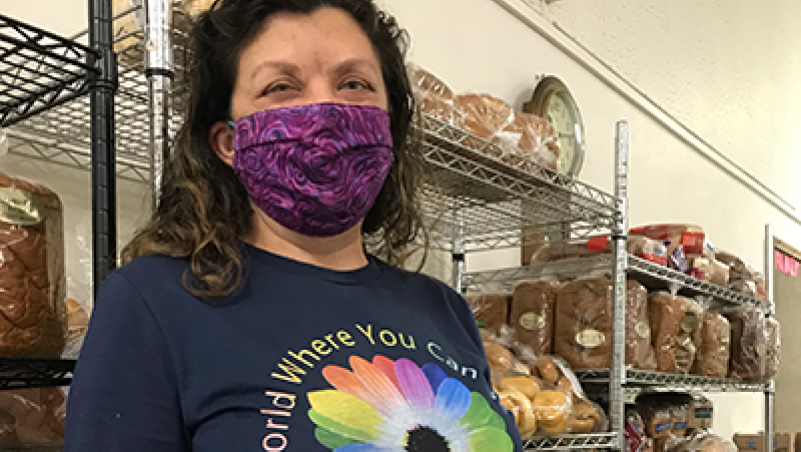 Lane Community College alum, Jennifer Denson, wears many masks these days: educator, executive director, pop-up grocer.
Since April, Denson and her volunteer-led nonprofit group, Burrito Brigade, have helped families bring home more than 1,100 boxes of food rescued from local stores that otherwise would have been wasted. During the pandemic, the group has continued its mission to feed the hungry through its weekend preparation and distribution of about 800 vegan burritos and the stocking of its neighborhood Little Free Pantries. The pantries are modeled after the Little Free Library movement using food instead of books. 
"We didn't skip a beat," said Denson about the group's expanded services during the pandemic. "We didn't skip a weekend, it just molded into something different. The need is always out there. It's even more now. We're just redirecting to where the need is."
Denson is a 2010 graduate of the early childhood education program and works as an educational assistant with differently-abled elementary school children. For her, Lane was a welcoming place where she forged lasting friendships among those with her same passion for giving children a strong educational foundation. She's nurtured her other passion for food rescue and ensuring no one in her community goes hungry through her work with Burrito Brigade.
As local food banks had to halt their perishable food distribution in the early weeks of the pandemic, details quickly fell in place to make sure the food didn't go to waste and people didn't go hungry with a pop-up grocery created at first in Denson's garage before moving to a local church.
"I call it magic, but some people say I'm just super driven," she said. "I've always had a passion for food rescue. I have this complete obsession that people should not be going hungry when there is food being thrown away."
Months later, the group continues to offer food boxes at a local church site by appointment and has set up the rescued items like a store to make it easy for "customers" to shop and pick and choose their own items with social distancing, masks and other precautions in place. Burrito preparation and distribution also continues, though primarily with drop-offs of large quantities at shelters and with other nonprofit groups who can distribute the meals.
Through the pandemic, Burrito Brigade continues to identify new partners, including mutual aid groups that have grown during the pandemic, volunteers and other hunger-solution groups like Food for Lane County, Denson said. Food for Lane County provided space for the group when its commercial kitchen at another local church was shuttered at the start of the stay-at-home order.
The group's Little Free Pantry program is also growing with new partners with a total of 26 pantries planned to be open by the end of July and more expected by the end of summer. The newest collaboration is with the City of Eugene's Cultural Services Department for the addition this summer of five new pantries painted by artists as part of the city's Urban Canvas program. Through Urban Canvas, the city commissions artists to transform the utilitarian urban landscape, like traffic boxes, into artwork.
Denson said it is her hope that more people find ways to safely volunteer and assist her organization and others in serving the community during these times.
"I hope people know how easy it is to volunteer," she said. "We're a family-friendly nonprofit volunteer group. We'll have families come volunteer and it's so impactful. It's so easy to give back. There's still a need for food and there's a huge need in Lane County for resources."
Lane Community College educates over 25,000 students annually at six locations across Lane County and online. Students and alumni from all 50 states and 79 countries create more than an $850 million dollar impact on the local economy, helping to support more than 13,000 local jobs. Lane provides affordable, quality, professional technical and college transfer programs; business development and employee training; academic, language and life skills development; and lifelong personal development and enrichment courses.