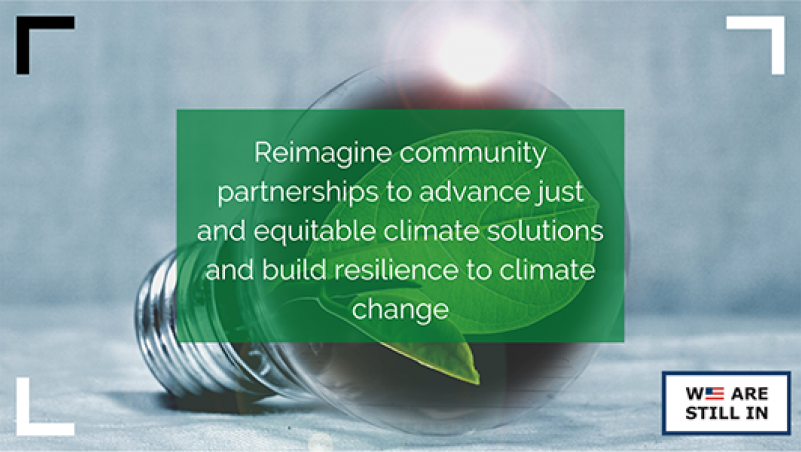 Statement will be sent to Biden-Harris team and world leaders on anniversary of Paris Agreement
EUGENE, Ore.—Dr. Margaret Hamilton is all in. President of Lane Community College since 2017, Hamilton signed the "America Is All In" statement on climate action the minute it hit her virtual desk.
The statement was organized by We Are Still In, a coalition in support of climate action, and signed by leaders from community colleges, local governments, businesses, universities, and other institutions across the country. It will be delivered to the incoming Biden-Harris administration, and to world leaders at the Climate Ambition Summit hosted by the United Kingdom on December 12, the five-year anniversary of the worldwide Paris Agreement which the Biden-Harris team has committed to re-entering.
"By signing this declaration, Lane Community College continues to be a national leader in promoting actions to support climate action in higher education," said Hamilton.
Sustainability Coordinator Luis Maggiori agrees. "Signing the statement reinforces LCC's commitment to climate action," he said.
LCC was one of the first signatories of the American College and University President's Climate Commitment in 2006. The LCC Board of Education approved the college's first Climate Action Plan in 2011 which was updated in 2018. That year, LCC joined the "We Are Still In" coalition which now includes more than 3,900 CEOs, mayors, governors, tribal leaders, college presidents, faith leaders, health care executives, and others.
The coalition intends its statement to help the Biden-Harris Administration plan climate policy in 2021 and encourages the incoming administration to work with community colleges, universities, cities, states, businesses and other key partners in the coalition. The statement identifies high-level climate actions that federal policymakers can take, and calls for enhanced partnership and leadership among private and public sectors with an emphasis on economic recovery and equity.
For more information about LCC's role in "We Are Still In," contact Sustainability Coordinator Luis Maggiori at (541) 463-5884 or maggioril@lanecc.edu.
Lane Community College educates over 25,000 students annually at six locations across Lane County and online. Students and alumni from all 50 states and 79 countries create more than an $850 million dollar impact on the local economy, helping to support more than 13,000 local jobs. Lane provides affordable, quality, professional technical and college transfer programs; business development and employee training; academic, language and life skills development; and lifelong personal development and enrichment courses.