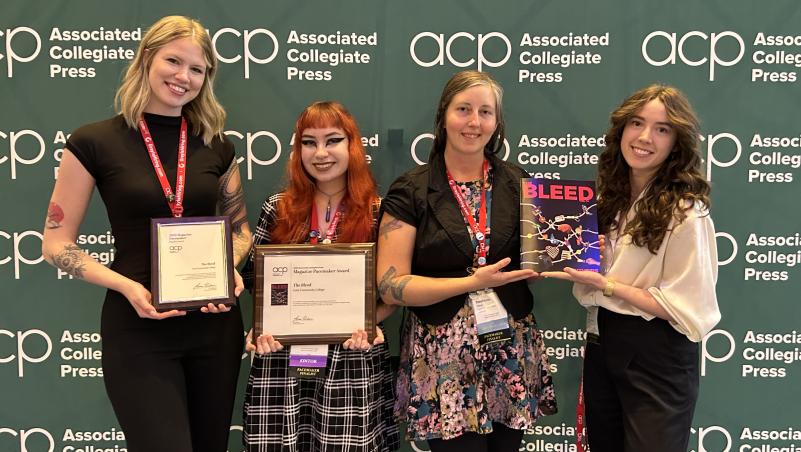 EUGENE, Ore. — Lane Community College (LCC) is proud to announce that its graphic design students have achieved remarkable success in recent national and regional competitions, showcasing their exceptional talent and dedication to the field of design.
At the forefront of these achievements, The Bleed Magazine, a 52-page art and design publication created as a capstone project by LCC graphic design students, has been honored with the prestigious Associated Collegiate Press (ACP) Pacemaker Award at the National Media Convention held in Atlanta, Georgia. The award, often likened to the Pulitzer Prize of collegiate journalism and design, recognizes the pinnacle of excellence in student media. This is the seventh time LCC students have won the Pacemaker Award. The Bleed's recognition at this esteemed event, where it also secured third place in the Best of Show competition, is a testament to the high caliber of work produced by LCC students.
In addition to this national recognition, students working in LCC's Design and Media Center (DMC) have been awarded a gold medal for best poster and a silver medal for best postcard at the National Council of Marketing and Public Relations (NCMPR) District 7 Medallion Awards. Competing in a field typically dominated by professional, LCC students demonstrated exceptional real-world skills and creativity. These awards are a testament to the quality of training provided by the DMC, a design studio that mirrors a professional agency environment. This unique setup allows LCC students not only to earn paid work experience but also to build a robust portfolio.
Tom Madison, a Graphic Design instructor at LCC, expressed his pride in the students' accomplishments: "These awards are a reflection of the hard work, creativity, and dedication our students put into their projects. It's incredibly rewarding to see them recognized on such prestigious platforms. Their success is a testament to the quality of education and real-world experience they receive here at LCC. I am confident that these achievements are just the beginning of their promising careers in graphic design."

(Pictured in photo - Bleed Staff at 2023 ACP Awards: Jesse Harris, Editor in Chief; Svetlana Starodubtseva, Art Director; Stephanie Walen, Editor in Chief; Raina Corbly, Art Director)
Contact
Brett Rowlett, Executive Director of External Affairs
Email
rowlettb@lanecc.edu
Lane Community College educates over 15,000 students annually at six locations across Lane County and online. Students and alumni from all 50 states and 79 countries create more than an $675 million dollar impact on the local economy, helping to support more than 8,900 local jobs. Lane provides affordable, quality, professional technical and college transfer programs; business development and employee training; academic, language and life skills development; and lifelong personal development and enrichment courses.