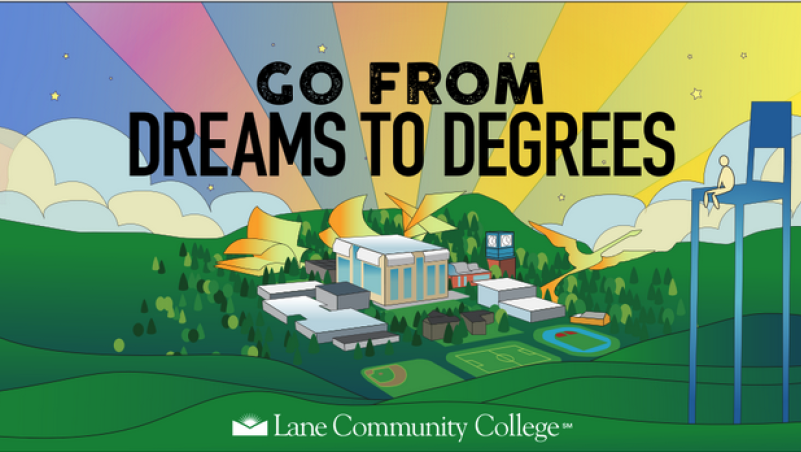 EUGENE, Ore. — Lane Community College (LCC) emerged victorious with ten honors at the prestigious 38th Annual Educational Advertising Awards competition, boasting six gold and four silver awards. 
The competition saw more than 2,000 submissions from over 1,000 two- and four-year educational institutions across all fifty states and multiple foreign countries. The judging panel was composed of higher education marketers, advertising creative directors, and professionals from the marketing and advertising industries. This event is renowned as the largest, most established, and highly-regarded educational advertising awards competition in the United States.
"We are incredibly proud of our talented marketing team, as their combined efforts have led to these exceptional accomplishments. This recognition highlights LCC's commitment to innovation and excellence in promoting educational opportunities and engaging our community," said Brett Rowlett, Executive Director of External Affairs at Lane Community College.
The awards acknowledged outstanding achievements in both conventional and digital advertising. LCC's "Dream to Degree" campaign was awarded two golds and two silvers, while their enrollment initiative, "We See the YOU We Know You Can Be," received two golds, including one for the best overall campaign. The college also earned a gold and a silver for the "Campus is OPEN" campaign, which highlighted LCC's reopening plans post-COVID pandemic. Moreover, LCC's LANE Magazine, a publication that focuses on professional development and personal enrichment opportunities, secured one gold and one silver award.
LCC's marketing program is managed by Rebecca Long, the director of marketing and strategic communications, under the supervision of Brett Rowlett, the executive director of external affairs. The department collaborates closely with Salvage Advertising and the LCC Design and Media Center, a marketing program supported by graphic design students guided by faculty Tom Madison from the Media Arts department.
Contact
Brett Rowlett, Executive Director of External Affairs
Email
rowlettb@lanecc.edu
Lane Community College educates over 15,000 students annually at six locations across Lane County and online. Students and alumni from all 50 states and 79 countries create more than an $850 million dollar impact on the local economy, helping to support more than 13,000 local jobs. Lane provides affordable, quality, professional technical and college transfer programs; business development and employee training; academic, language and life skills development; and lifelong personal development and enrichment courses.